You are hereWhere We Work
Where We Work
---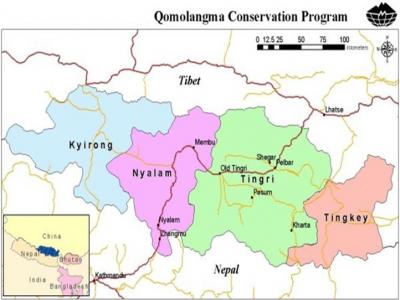 The Pendeba Society works in the Qomolangma (Mt. Everest) National Nature Preserve (QNNP), Tibet Autonomous Region (TAR). The QNNP protects 33,910 square kilometers, and it contains five of the world highest peaks (over 8,000 meters are located within this Preserve).
The elevation of the Preserve extends from less than 2000m to 8848m at the top of the Qomolangma. The preserve provides habitats for many species of plants and animals.
The QNNP connects with four conservation areas in Nepal to create a contiguous, totally protected area in the central Himalaya that is the size of Switzerland.
The Karma Valley is a widely known valley in QNNP. These valleys in QNNP have dramatic forests, wildlife populations, and pilgrimage routes.
This preserve is home to approximately 89,000 people who live in four counties in QNNP. The four counties include: Dinri, Nyalam, Dingji, and Keyrong Counties. Over 99% of the residents are ethnic Tibetans who are traditional herder-cultivators (Samadrog) living in widely scattered hamlets.
History of its Creation
The Qomolangma (Mt. Everest) Nature Preserve (QNP) was established in March 18, 1988 by the government of the Tibet Autonomous Region (TAR) as a provincial level nature preserve. Later in 1994 it was elevated as a national level nature preserve (QNNP) by the State Council to preserve one of the world's most magnificent natural treasures. Former Chinese president Jiang Ze Min presented an inscription for the QNNP monument. The QNNP was included in the Chinese biosphere network in 2001; and three years later, it was promoted in the global biosphere network by the UNESCO.